TMS Therapy
Breakthrough Depression Treatment
Without Medication
THERE IS HOPE
TMS Therapy
Breakthrough Depression Treatment Without Medication
THERE IS HOPE
NeuroStim is Washington's Leading TMS Provider
#1
Doctor Recommended
TMS Provider in WA
71.5%
Patient Response
or Full Remission
75,000+
TMS Treatments
Administered
7
Washington State
Locations & Growing
NeuroStim TMS is an Effective New Depression Treatment Without Medication
Transcranial Magnetic Stimulation (TMS) is a medical breakthrough for treating Major Depression, OCD, PTSD, Anxiety, and other disorders. TMS is a highly effective, FDA-approved, proven and non-sedating treatment for patients who haven't responded to antidepressants or other treatments. TMS utilizes pulses of magnetic energy similar in strength to those produced by magnetic resonance imaging (MRI) machines to stimulate areas of the brain known to control mood. Real hope is now available.
NeuroStim TMS is Now Covered by Most Major Insurance Plans
NeuroStim TMS Centers are considered In-Network providers for most insurance plans, including Premera Blue Cross, Regence, United Healthcare, Aetna, TriCare, Kaiser, and others. Real hope is just a few clicks away, so get the help you need with the insurance coverage you already have by getting in touch with us today.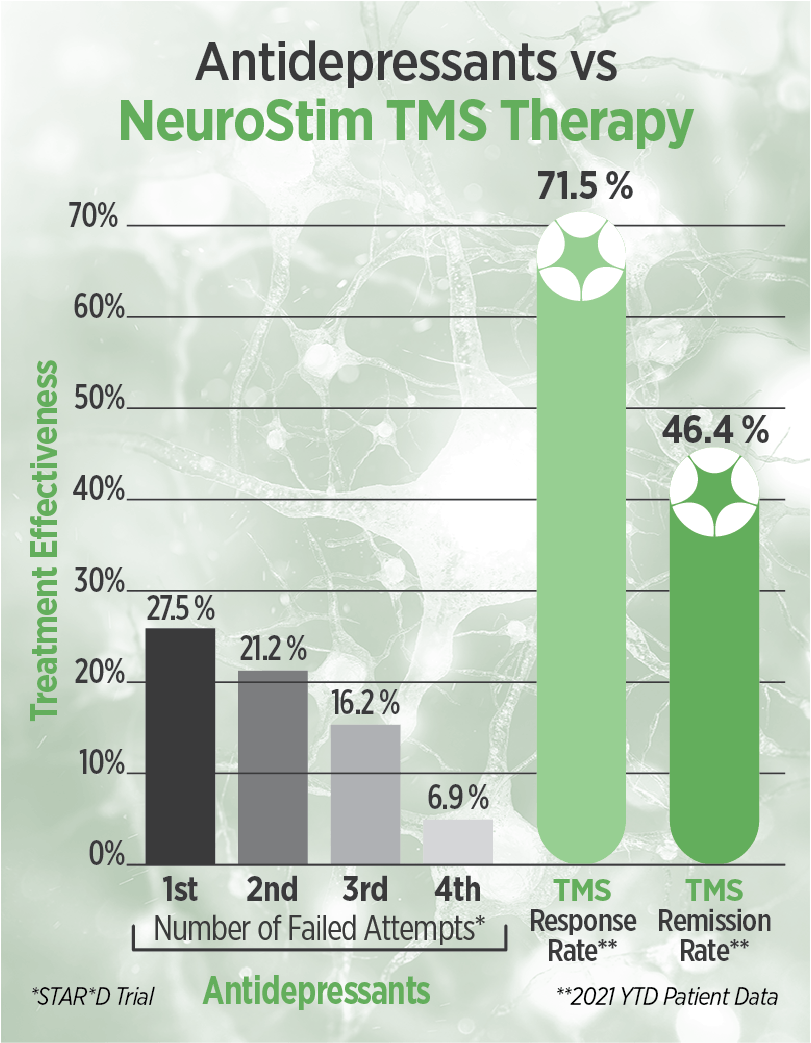 What Makes Us Different?
#1 Doctor Recommended TMS provider in WA
Industry Leading TMS Doctors and Staff
Specializing Exclusively in TMS Therapy
71.5% Achieve Significant Improvement
46.4% Achieve Full Remission
Theta Burst & Accelerated TMS Leaders
Treating 175+ Daily Patients
Across Our 7 locations
Customized Patient Care
Using the Latest Technology
Life Changing Personal Testimonials and Media Coverage
Recent Posts from Our Blog