Welcome to NeuroStim TMS in Seattle, WA
Washington's Leading TMS Provider
View our Seattle clinic & staff here
Book a Free Phone Consult
If you are suffering from depression, OCD, anxiety or similar disorders, and have not had satisfactory results from pharmaceutical medications or other treatments, NeuroStim TMS may be able to help through TMS Therapy. Please fill out this short form today for a free phone consultation with NeuroStim TMS.
Life Changing Personal Testimonials and Media Coverage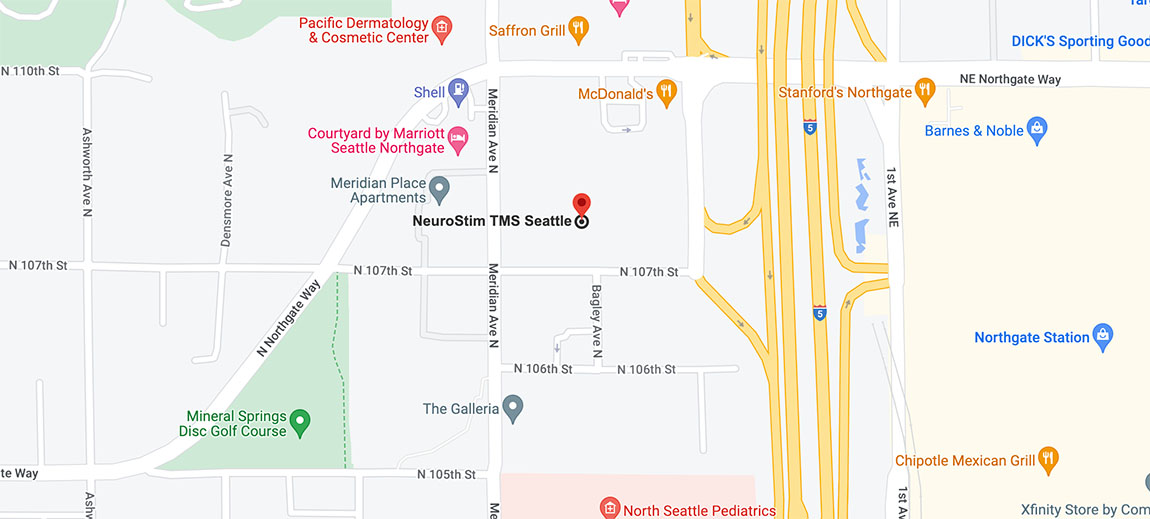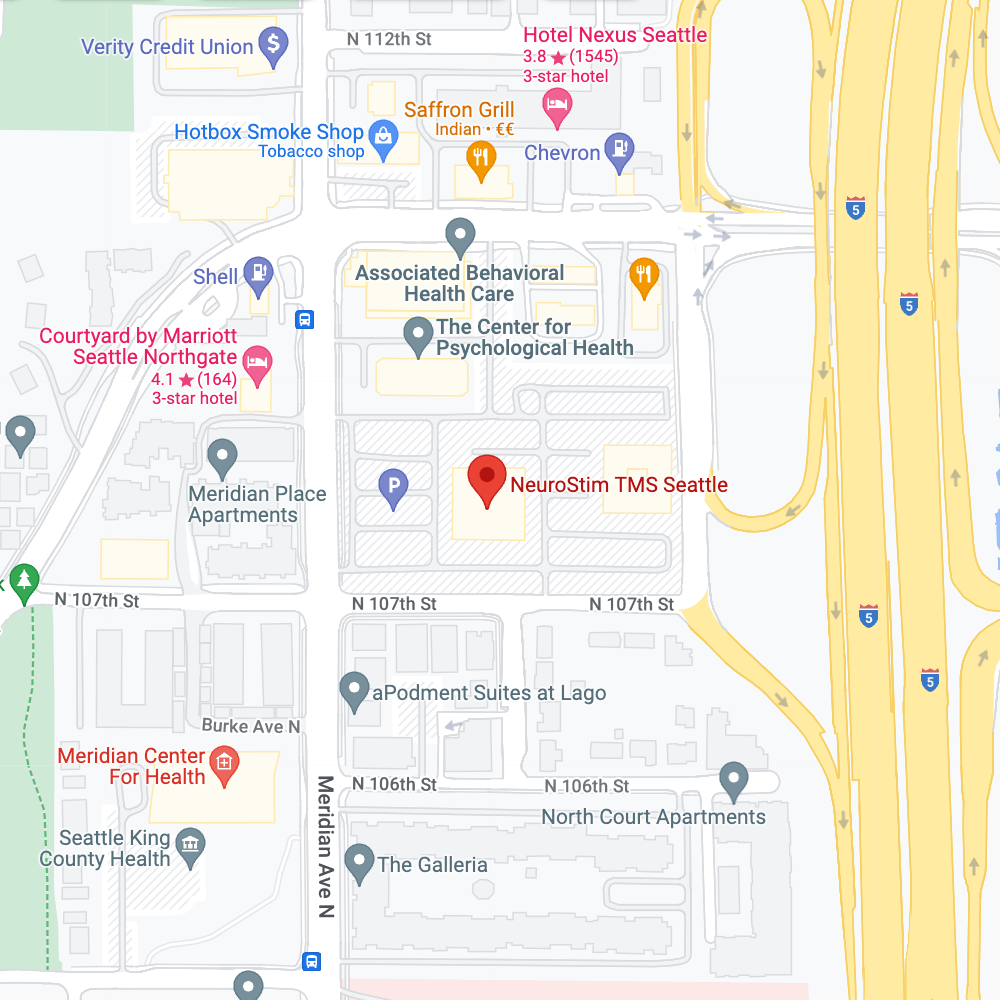 NeuroStim TMS Seattle-Northgate
Those suffering from depression and anxiety in the Seattle-Northgate region turn to NeuroStim TMS first for TMS and other non-invasive treatment. Our reputation, results, and standard of care make us the obvious choice, even for patients with longstanding, stubborn depression and anxiety that is resistant to other forms of treatment.
The Seattle-Northgate area is a bustling hub for shopping, industry, and residential living. More than 60 percent of all residents are renters, many of whom live alone. Life in our city can be stimulating and rewarding, but it can also be overwhelming. When the pressures of day-to-day life become too much to handle, it's time to call NeuroStim TMS.
To support you in your wellness journey, remember that you can always turn to your Seattle-Northgate community for friendship, support, and a sense of purpose. There are plenty of open spaces, community groups, and religious organizations where you can lend your talents, enjoy nature, and become a valued member of your city and beyond.
The Northgate Community Center, located just across from Northgate Mall and adjacent to Northgate library, is a lively and diverse gathering space offering art classes, a commercial kitchen, an exercise room, and more. Volunteers are welcome and play many supporting roles. Community members lead classes as well as take them, and various groups catering to everyone from teens to seniors keep all members of the community engaged and connected. Dance, swimming, yoga, team sports, and more are on offer. Check in with them to see how you can participate!
The Haller Lake Community Club, also located in Seattle-Northgate, has as its mission to "connect, inform and engage the Haller Lake community through social and civic programs and activities." Part of building mental health is to be purposeful every day, and the Northgate community is waiting for your contribution.
And just because we are surrounded by commercial activity and high rises doesn't mean that Northgate doesn't have plenty of opportunities for residents to get outdoors into the fresh air and sunshine. Just a quick walk from Northgate Mall is Beaver Pond Natural Area, a ten-acre park that is home to part of Thornton Creek. The Licorice Fern Natural area is another refuge, and there are plenty of golf and tennis courts around town as well.
When our Seattle-Northgate neighbors ask us why NeuroStim TMS is such a vital partner in promoting mental health in the Northgate area, we are happy to provide answers! Our treatment outcomes really set us apart, with over 70 percent of patients achieving more than 50 percent improvement in their condition and 46 percent experiencing a full remission. For those with debilitating conditions such as major depressive disorder, OCD, PTSD, postpartum depression, and more, the success rate of TMS is staggering. When medication simply does not help or causes intolerable side effects, NeuroStim TMS can truly save lives.
NeuroStim TMS Seattle-Northgate is proud to be a valued member of the Northgate community. Get in touch today for a confidential, no-obligation discussion regarding how we can help you to feel like yourself again!