Welcome to NeuroStim TMS in Kitsap, WA
Washington's Leading TMS Provider
Schedule a Free Consultation*
If you are suffering from depression, OCD, anxiety or similar disorders, and have not had satisfactory results from pharmaceutical medications or other treatments, NeuroStim TMS may be able to help through TMS Therapy.
Please fill out this short form today for a free phone consultation with NeuroStim TMS.
*Most consultations are conducted over the phone, although we also offer free in-office consultations with our TMS Coordinators, if preferred.
Life Changing Personal Testimonials and Media Coverage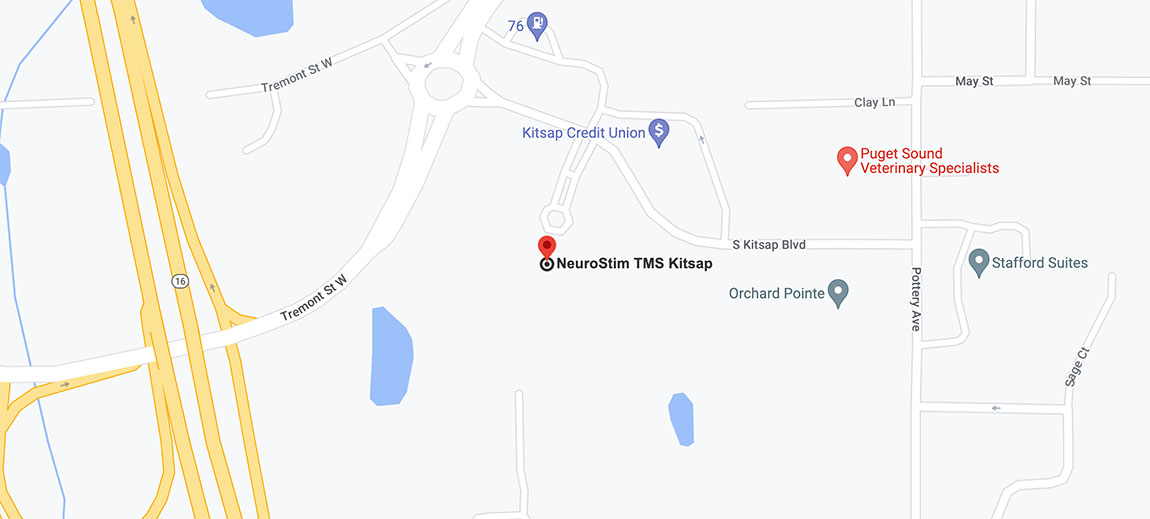 NeuroStim TMS Kitsap
Does it get any better than living in the Port Orchard-Bremerton-Kitsap area? Whether your passion is boating and water sports, hiking and skiing in the mountains, or taking in the area's flourishing arts scene is your passion, Kitsap has what you're looking for.
Regardless of our surroundings, anyone can fall victim to depression and anxiety, and sometimes they appear without seeming reason or warning. NeuroStim TMS's Port Orchard is here to give you hope. Our non-invasive, side-effect free TMS treatment has helped patients with manifold symptoms from all walks of life. If your symptoms have become disruptive, debilitating, or unmanageable, we want to be your partner in helping you get back to yourself.
If you're feeling down, be sure to take advantage of some of the nourishing aspects of Kitsap when you feel able. Getting out onto the water can be one of the most healing experiences we know of, and Puget Sound is teeming with possibilities. Why not try renting a boat, tube, jet ski, kite board, or raft for the day? Stand-up paddle boarding, fishing, or just relaxing in the sun can give you a completely different perspective on life. Port Orchard's Long Lake State Park is an ideal place to get onto the water, and also hosts a baseball field, volleyball courts, and picnic areas.
But the water is far from the only way to get out into nature in the Kitsap area. Just a few miles from Bremerton is the Illahee State Park, where you can hike, take a picnic, or even go paragliding if you're just that adventurous! Also not far from Bremerton is the Green Mountain State Forest, which can make you forget for a few hours that you actually live in a city!
When you've had your fill of the water (if ever), Port Orchard has a vibrant arts scene that is not to be missed. The Western Washington Center for the Arts hosts local dance and theatre troupes and offers workshops and classes for all ages. In the spring and summer, the Kitsap Forest Theater is a magical outdoor wonderland that hosts plays and performances all season long. For something a little different, check out Bremerton's Aurora Valentinetti Puppet Museum, an enchanted attraction full of wonder and quirky fun.
At our NeuroStim TMS Port Orchard clinic, our mission is to help you get back to life and to all that the Kitsap area has to offer. If you feel trapped by your anxiety and depression, don't lose hope, because there is help. In fact, some of our biggest success stories are those in the Kitsap area who've been experiencing their symptoms for decades without relief. Our cutting edge yet practical treatments have helped diverse conditions including major depressive disorder, PTSD, OCD, and postpartum depression. Don't spend another day suffering needlessly. We encourage anyone in our Kitsap community who is looking for a safe and effective alternative to medication to get in touch with our NeuroStim TMS Port Orchard clinic right away. Help is available!