Welcome to NeuroStim TMS in Bellevue, WA
Washington's Leading TMS Provider
View our Bellevue clinic & staff here
Book a Free Phone Consult
If you are suffering from depression, OCD, anxiety or similar disorders, and have not had satisfactory results from pharmaceutical medications or other treatments, NeuroStim TMS may be able to help through TMS Therapy. Please fill out this short form today for a free phone consultation with NeuroStim TMS.
Life Changing Personal Testimonials and Media Coverage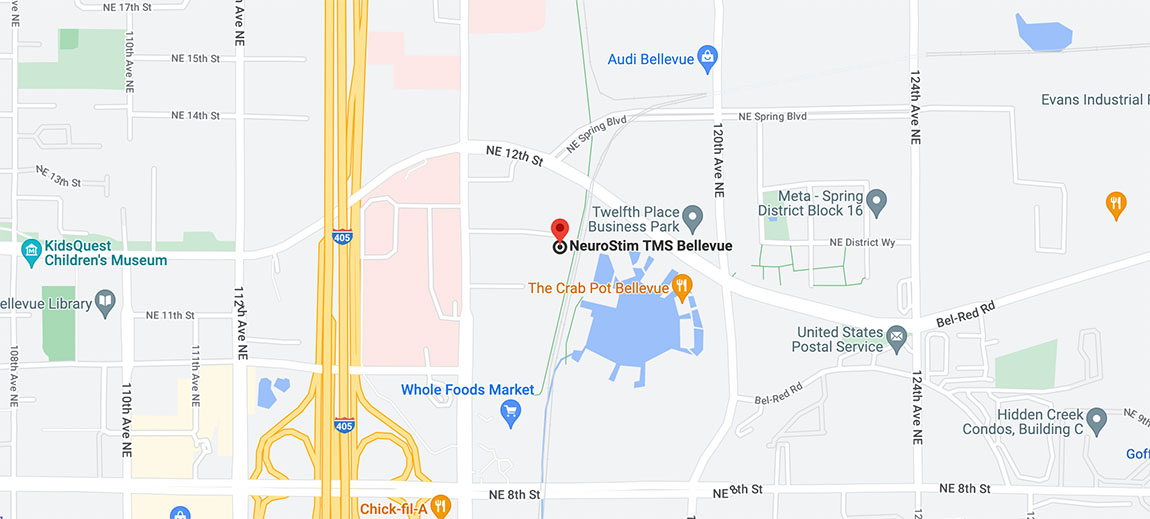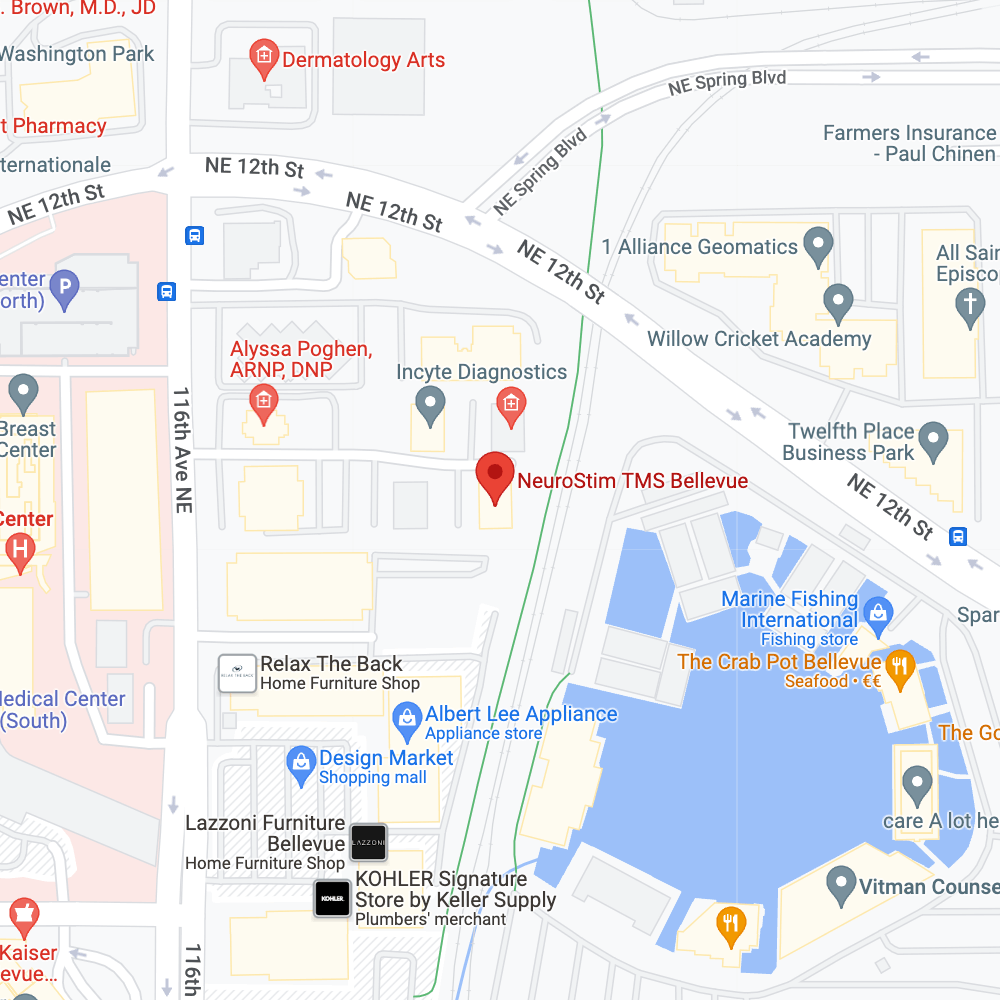 NeuroStim TMS Bellevue
Home to some of the world's most profitable tech and other major companies, the Bellevue area, while beautiful, can sometimes be a stressful place to live and work. We all know that trying to keep up with the Joneses can take its toll. That's where our NeuroStim TMS Bellevue clinic steps in. We take our mission to support our community's mental health very seriously, delivering the most cutting-edge (yet side-effect free) treatments available in Washington state.
While the competition in business can be fierce in Bellevue, we know that our community values the manifold opportunities to get out into nature to rest and recharge. As home to 80 miles of hiking trails, rivers for boating, and an outdoor challenge course, there's always something to do outdoors in Bellevue-Redmond. And that's only the beginning! Bellevue has beaches, spots for dolphin watching, golf courses, and miles and miles of park space practically right outside your doorstep. You can even take a zip-line tour of this wonderful area.
Bellevue's more adventurous residents and visitors can indulge in paragliding, rafting, and rock climbing. And Olympic National Park, just 20 miles from Bellevue-Redmond, has four rainforests full of unique ecosystems and ancient trees that can be tremendously soothing to the soul.
One of Bellevue-Redmond's most treasured experiences is the Bellevue Botanical Garden, a free park that has more than fifty acres of displays to explore and breathe in. In particular, the Yao Japanese garden can be a sanctuary for meditation and rest. The facility even hosts classes to help you learn to garden, which is widely known to be healing and grounding.
Bellevue-Redmond is also a hub for the arts, which provides another way for all of us to relax and unwind. Bellevue is home to the Northwest Railway Museum, an art museum, and several galleries that house fine art. Bellevue's Meydenbauer Center is a 54,000 square foot facility that brings national and international theatre and dance to the area along with space for conventions and meetings. And if you like to take in edgier modern dance performances, check out the many smaller theatres that are a little more off Bellevue's beaten path.
Taking up a new hobby can also provide an outlet, get you out to meet new people, and give you a sense of purpose that you may not have felt in quite some time. Have you always wanted to learn ballroom dance? Bellevue has multiple ballroom dance studios that cater to adults. Attending yoga classes is also a great way to destress and join a community at the same time.
We invite you to contact our Bellevue-Redmond location for information about our NeuroStim TMS treatments. We've helped thousands of patients just like you. Our cutting-edge treatments can help you to enjoy life again and all that Bellevue-Redmond has to offer. Our success rate in helping and even curing depression and anxiety is among the highest in the country. Don't wait any longer—get in touch with NeuroStim TMS Bellevue today!