Welcome to NeuroStim TMS in Lakewood, WA
Washington's Leading TMS Provider
View our Lakewood clinic & staff here
Book a Free Phone Consult
If you are suffering from depression, OCD, anxiety or similar disorders, and have not had satisfactory results from pharmaceutical medications or other treatments, NeuroStim TMS may be able to help through TMS Therapy. Please fill out this short form today for a free phone consultation with NeuroStim TMS
Life Changing Personal Testimonials and Media Coverage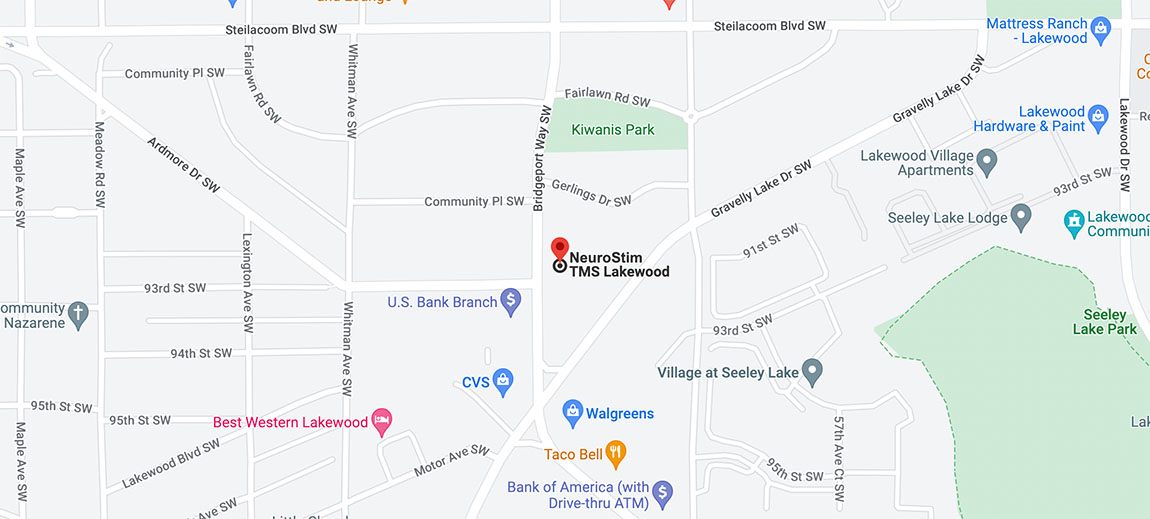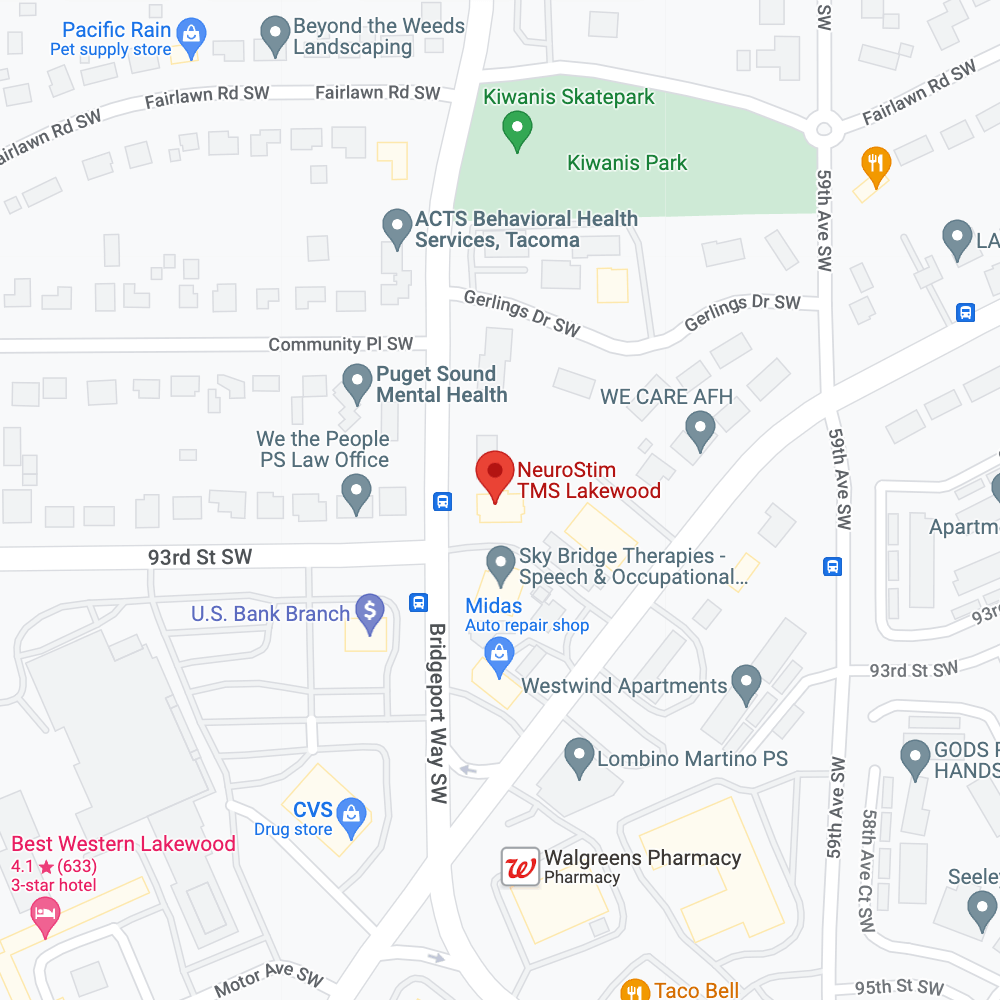 NeuroStim TMS Lakewood
No wonder so many people fall in love with Tacoma, the artsy suburb of Seattle with the gorgeously serene backdrop of Mt. Rainier. A teeming business and retail environment along cultural activities and opportunities for retreats into nature give this city the work-life balance that so many of us are searching for.
Of course, it's easier than ever in the last few years for us to feel emotionally and psychologically out of balance. Anxiety and depression are extremely common, so if you are suffering from any type of mood disorder, you are far from alone. Why not call our NeuroStim TMS Lakewood facility for more information about how we can help? Our non-invasive, side-effect free treatment has been proven among the most effective in the country, even for longstanding cases of anxiety and depression.
It's important for all of us to recharge our batteries when the demands of city life become a little overwhelming. With Tacoma's lively arts scene practically on your doorstep, it's a good opportunity to check out for a while and lose yourself in the beauty of dance, theatre, or even the local glassblowing scene. Did you know that the Tacoma Glassblowing Studio offers classes where you can make your own holiday ornaments and other glass objects? You don't need to be Dale Chihuly to do some hands-on glassmaking! And if you just can't get enough glass, Tacoma's Museum of Glass is home to one of the world's largest collections of 20th and 21st century glass art objects. Or if world-famous painters speak to you, head over to the Tacoma Art Museum, where you can take in the Renoir, Pissarro, Degas, and other famous pieces up close and in person. The Broadway Center for the Performing arts in Tacoma is another destination for everything from opera, symphony, dance, and even magic shows. We sometimes forget how spoiled we are in the Tacoma-Lakewood area for opportunities to take in the arts!
If you find that nature is soothing to your soul, Tacoma-Lakewood's outdoor facilities are just as impressive. It would be impossible to name all of them here, but the Tacoma Nature Center is one of the highlights. There is something so exciting about observing foxes, deer, and even the rabbits in their own habitat. Or why not sit on a bench for a few hours watching the ducks, geese, and turtles while the day away? More ambitious weekend warriors shouldn't miss Mount Rainier National Park for its hiking trails, skiing and snowboarding, climbing, camping, and snowing depending on the season. At 236,000 acres, you could spend years exploring this Tacoma beauty!
At NeuroStim TMS Lakewood, we want you to live your best life and take in all that your area has to offer. We have successfully treated debilitating conditions such as postpartum depression, PTSD, OCD, eating disorders, and more. We are the go-to treatment option when conventional avenues have failed. Get in touch with our NeuroStim TMS Lakewood facility today for more information.