Understanding Depression, Anxiety, and PTSD in Military Families
If you're struggling to maintain your health and well-being as part of a military family, you're not alone.
Researchers estimate that up to 14% of military service members experience PTSD in the military and after deployment, while mood disorders are also common among military children and their families.
Medication and other treatments may provide some relief from PTSD, anxiety, and depression in the military, but they also come with numerous side effects. Many patients have decided to look elsewhere for a ray of hope, and a newer treatment, TMS therapy, has proven beneficial for thousands of military families.
TMS (Transcranial Magnetic Stimulation) therapy is an FDA-approved, non-invasive treatment that can help reduce symptoms of PTSD, depression, and anxiety in the military and after deployment. NeuroStim TMS offers TMS therapy in each of our nine (9) clinics across the state of Washington, and we have administered more than 100,000 successful TMS treatments since 2018.
Read ahead to learn more about TMS therapy and how it can benefit you and your military family. Then contact one of NeuroStim's nine (9) TMS Centers in Washington for a free consultation.
Military personnel often exhibit symptoms of mood disorders during and after their deployment, including:
Irritability
Fatigue
Social isolation
Intrusive memories
Emotional numbness
Difficulty sleeping
Excessive worrying
Rapid heart rate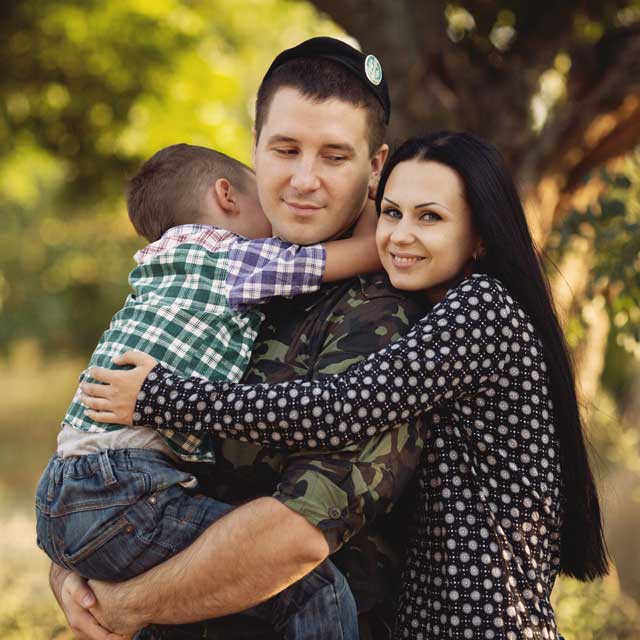 These symptoms can hurt their work performance, damage their relationships, and disrupt their daily activities. Many service members find it difficult to move on with their lives after deployment, feeling stuck in the emotional trauma and difficult memories of their service periods.
Military Spouses
Many people acknowledge the difficulties military personnel face after deployment but fail to realize that military spouses experience similar levels of stress, depression, and anxiety.
Military spouses often act as single parents while their husbands or wives are on active duty. They spend much of their spouses' deployment with few-to-no updates about their partners' safety and well-being, leading to high stress levels. Spouse deployment depression, or military wife depression, is common among military partners.
Often, military spouses put their careers on hold while their spouses go through training and service. Once their partners return, military husbands and wives must relearn how to interact with their partners who have experienced high-stress, traumatic situations during deployment.
Altogether, being a military spouse is challenging, and many of these individuals experience mood disorders just like their partners.
Military spouses often report symptoms such as:
Lack of interest in daily activities
Excessive worrying
Heart palpitations
Flashbacks to times when their spouses were away
Irritability
Sadness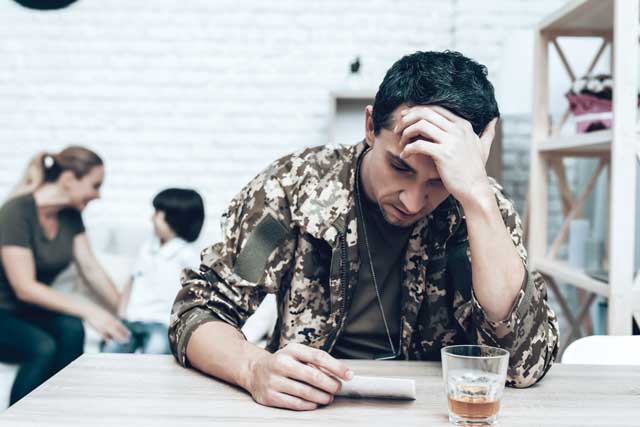 These symptoms can disrupt their daily lives and challenge their relationships with their partners, children, and family members.
Military Children
Military children often face difficulties during and after their parents' deployment. They miss their parent and don't realize why they are gone, and many also experience secondhand stress from their present parent.
Though military children experience similar stress and anxiety levels to those of their parents, they showcase these emotions in different ways. Military children may exhibit symptoms of mood disorders such as:
Social and emotional challenges
Difficulty adjusting to new routines
Chronic sadness
Separation anxiety
Worry for the present parent's health
Difficulty sleeping
Complaints of stomach aches or headaches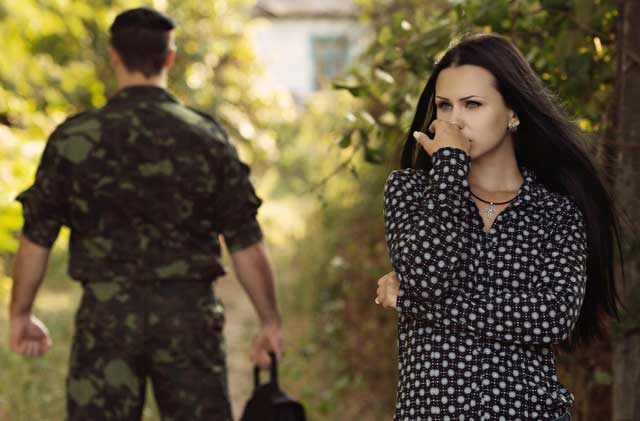 These symptoms often affect a child's ability to do well in school and make new friends. They may also follow a child throughout their growth and impact their mental and emotional well-being as an adult.
Treating PTSD, Depression, and Anxiety with Transcranial Magnetic Stimulation (TMS) Therapy
Many military families utilize medications or other mental health treatments to combat their anxiety, PTSD, and depression after military service. Unfortunately, traditional treatments do not work for everyone, and you may feel that no solution can provide adequate results for your health.
Some patients may be doing everything they can to feel better—meeting with a psychiatrist, taking various medications, undergoing PTSD treatment—but depression, anxiety, and stress continue to take control of their lives. Their prescription medication may alleviate some of their symptoms, but they also bring their own assortment of side effects.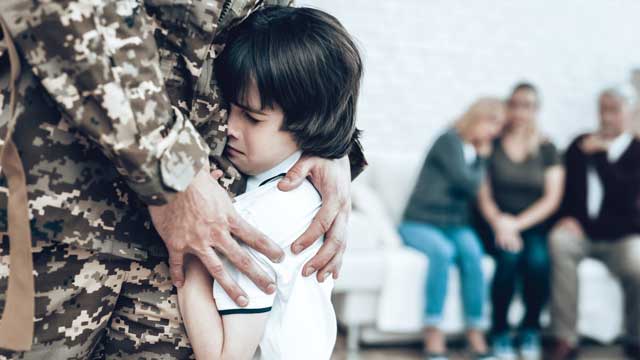 Despite their best efforts, many military families experience adverse symptoms of mood disorders that affect their careers, studies, income, and relationships.
Thankfully, TMS therapy is an alternative solution that has helped thousands of military members regain control of their lives.
What Is Transcranial Magnetic Stimulation (TMS) Therapy?
Transcranial Magnetic Stimulation (TMS) therapy is a non-invasive, non-systemic treatment for Major Depression, Generalized Anxiety, PTSD, and several other diagnosed disorders.
Mood disorders adversely affect a few areas of your brain, such as the amygdala, hippocampus, and ventromedial prefrontal cortex (vmPFC). TMS delivers magnetic pulses to stimulate nerve cells in these regions of your brain, returning them to regular, healthy functioning.
Dopamine, norepinephrine, and serotonin are neurotransmitters that commonly play a role in mood and mental health. When your brain exhibits low levels of these neurotransmitters, you may experience symptoms of depression, anxiety, or PTSD.
TMS activates and raises your dopamine, norepinephrine, and serotonin levels to balance your mental health and reduce symptoms of mood disorders.
Although TMS therapy has a reputation for helping patients with depression, this treatment can also benefit those with a wide range of mood disorders, including:
Tinnitus
Generalized Anxiety
PTSD
Obsessive-Compulsive Disorder (OCD)
Postpartum Depression
TMS is non-invasive, and the patient remains awake throughout the treatment process. This form of therapy also does not produce side effects that frequently occur with antidepressant medications, such as weight gain, sexual dysfunction, and fatigue. For this reason, many patients choose TMS over traditional therapy.
Research has shown that three out of four patients respond positively to TMS, and this treatment could make a world of difference for your mental health as well.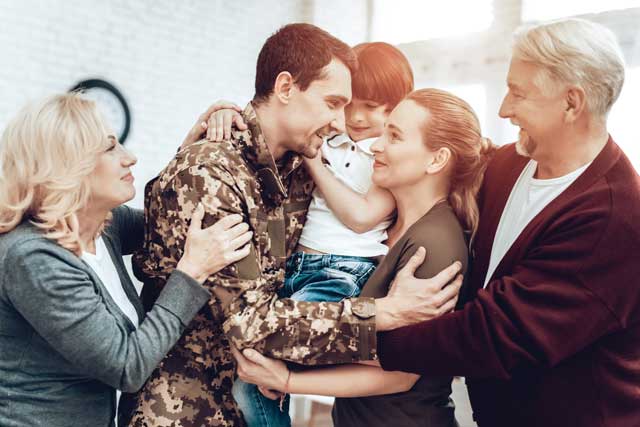 Benefits of TMS Therapy for Military Families
TMS treatment offers a range of benefits compared to traditional therapy and medication regimens. A few significant advantages of TMS include:
No drug-related side effects: Antidepressants can produce several uncomfortable side effects, such as headaches, blurred vision, fatigue, sexual dysfunction, and weight gain. However, most TMS patients experience no side effects. Those who do notice side effects usually only feel mild scalp discomfort or a slight headache during treatment.
Outpatient procedure: TMS is a quick and easy outpatient procedure. Each session lasts anywhere from 10 to 37 minutes, and after treatment is complete, patients can go back to their daily activities without experiencing any lasting side effects.
Covered by major insurance providers: Even though TMS is a relatively new treatment, many major insurance companies include this treatment in traditional insurance plans. NeuroStim TMS is an in-network provider for most insurance plans, including Aetna, Regence, Premera, Tricare, Triwest, United Healthcare, and more.
Higher success rate and faster results: Many patients choose to undergo TMS therapy after exhausting other treatment options. TMS has a higher success rate than medications and traditional treatment, and it often delivers faster results—more than 60% of patients in clinical trials experienced mood improvement after four weeks. Although some patients experience benefits sooner than others, healthcare providers typically view TMS as a more effective treatment than traditional options.
Long-lasting effects: Though additional research will determine more precise outcomes, most patients experience improvements in their symptoms for six months to a year after completing a TMS treatment series.
NeuroStim: Washington's Leading TMS Therapy Provider
NeuroStim TMS is a leading provider of TMS treatment in the state of Washington. Our highly trained staff of leading TMS experts has helped thousands of Washington patients through TMS treatments. Our treatment facilities deliver higher rates of patient improvement than the national average.
Many of our staff members have military experience, so we know what it's like to suffer from PTSD and depression in the U.S. Military. We customize each of our treatment plans to best suit our patients' specific needs, providing comprehensive care for each patient.
NeuroStim TMS Clinics
NeuroStim currently has (9) TMS clinics throughout Washington State.
NeuroStim TMS Tacoma-Lakewood clinic is in Lakewood, WA, on 9125 Bridgeport Way SW, Suite 102. The Tacoma office phone number is (253) 200-5763.
NeuroStim TMS Bellevue-Redmond clinic is in Bellevue, WA, on 1240 116th Ave NE, Suite 102. The Bellevue office phone number is (425) 256-2967.
NeuroStim TMS Olympia-Lacey clinic is in Lacey, WA, on 5210 Corporate Center Ct SE, Suite C. The Lacey office phone number is (360) 208-2765.
NeuroStim TMS Mill Creek-Everett clinic is in Everett, WA, on 125 130th ST SE, Suite 204. The Everett office phone number is (425) 367-4949.
NeuroStim TMS Seattle-Northgate clinic is in Seattle, WA, on 10700 Meridian Ave N, Suite 406. The Northgate location phone number is (206) 620-1665.
NeuroStim TMS Kitsap-Bremerton clinic is in Port Orchard, WA, on 450 South Kitsap Blvd, Suite 160. The Port Orchard office phone number is (360) 616-0543.
NeuroStim TMS Federal Way-Auburn clinic is in Federal Way, WA, on 3450 S 344th Way, Suite 115. The Bellingham office phone number is (360) 656-4250.
NeuroStim TMS Bellingham-Barkley clinic is in Bellingham, WA, on 2200 Rimland Drive, Suite 115. The Federal Way office phone number is (253) 345-1500.
NeuroStim TMS Spokane-Kendall Yards clinic is in Spokane, WA, on 546 N Jefferson Ln, Suite 304. The Spokane office phone number is (509) 866-0020.
Preparation: What to Expect During Your Treatment Sessions at NeuroStim
If you have never heard of TMS treatment before, you may feel a little intimidated by the process. Let's break down how to prepare for your TMS treatment and what you can expect during your first session.
Before we can recommend TMS therapy, we will perform a full health evaluation. This assessment will include a physical examination and psychiatric test to determine if you suffer from treatment-resistant depression.
Thankfully, you will not need to do much to prepare for your session. Each TMS treatment will take about 15-20 minutes, and you do not need to change your eating habits before or after your session. Remember to wear comfortable clothing and remove any jewelry before your treatment.
During your first TMS session, a clinician will place an electromagnetic coil on your scalp. The magnet will deliver a painless magnetic pulse to specific regions of your brain, and you may feel a slight tingling sensation. The clinician will spend time determining the appropriate placement on your scalp, which they will record for future sessions.
TMS treatment varies from patient to patient, but most patients undergo 20 to 30 therapy sessions with five treatments per week.
Frequently Asked Questions:
Does Insurance Cover TMS Therapy?
Most major health insurance providers cover TMS therapy, including:
TriCare
VA/TriWest
Premera Blue Cross
Regence
UHC
Aetna
And many others.
However, many companies require patients to meet certain conditions before they can qualify for TMS coverage. Please get in touch with us today and we'll be happy to run a benefits check for you.
If your insurance provider does not cover TMS, NeuroStim can assist in negotiating partial or full coverage. We can also help you find other payment options, such as patient financing loans.
You can find out more about whether TMS is right for you through our checklist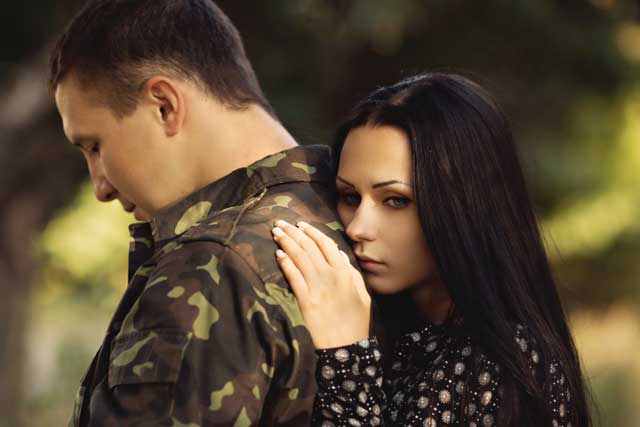 Is TMS Therapy Safe?
TMS therapy is safe for most patients. The United States FDA approved TMS therapy in 2008, and similar departments in Canada, Europe, and Australia have also verified the treatment's safety.
Does TMS Therapy Have Side Effects?
Side effects of TMS are minimal compared to other treatments. Many TMS patients do not experience any side effects. Others report a mild headache, scalp discomfort, tingling of the facial muscles, or lightheadedness. However, less than 5% of patients choose to discontinue TMS treatment due to side effects.
TMS Therapy Could Change Your Life
Being part of a military family is challenging for everyone involved. Whether you experienced PTSD in the Army or as a veteran of the Marines, suffer from anxiety in the Army, or are a family member of a member of the Air Force or Navy, TMS therapy could be the alternative solution you need to get your mental health back on track.
TMS therapy is a painless treatment that produces minimal side effects for most patients. This treatment is especially beneficial for patients who have already tried several antidepressant medications without any noticeable improvement.
Get In Touch With Us Today
If you're looking for Army Depression help, NeuroStim TMS Therapy could change your life.
Request a Free Phone Consultation today to speak with one of our dedicated Patient Advocates, or take our Free 30-Second TMS Quiz first to check if you're a candidate.
To find out which NeuroStim TMS Center is closest to you, simply hit the green button below.