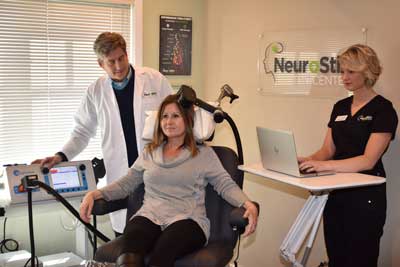 Have you been diagnosed with depression in Bellevue, Washington? While there are many potential depression treatment options, there isn't a single plan that works for everyone. If medication and therapy aren't producing the results you want, it may be time to consider TMS therapy. This technological breakthrough offers an alternative to antidepressants, which often produce harmful side effects. Keep the following information about TMS therapy in mind as you consider treatment options for your depression in Bellevue.
The Basics
Much like MRIs, TMS, or Transcranial Magnetic Stimulation, uses magnetic pulses to target specific areas of the brain. With this process technicians are able to activate and raise the levels of mood-regulating neurotransmitters. Examples include dopamine, norepinephrine, and serotonin.
Method
Patients interested in TMS therapy will be happy to know that the treatment is non-invasive. This means that since sedation isn't necessary, you'll be awake throughout the entire treatment. It's also non-systemic, so nothing will need to circulate through the blood stream. This prevents the development of various side effects, such as weight gain, sexual dysfunction, and tiredness.
Success
Two-thirds of patients who underwent TMS therapy during FDA clinical trials reported full remission or a reduction in depression symptoms. The American Psychiatric Association has also recognized TMS therapy as an effective depression treatment option.
Interested in TMS Therapy in Bellevue?
Are you interested in learning more about TMS therapy and how it helps patients with depression in Bellevue, Washington? If you've been diagnosed with depression but have been struggling to find a treatment that works for you, it's time to discuss TMS therapy with a professional. Contact NeuroStim in Bellevue today to find out more about our facility and treatment options. Our medical professionals will be happy to answer your questions. We also offer new patients a free consultation, during which we discuss you symptoms and potential treatment solutions.
TMS Therapy in Bellevue
Serving the communities of Bellevue, Lakewood, and the surrounding area.